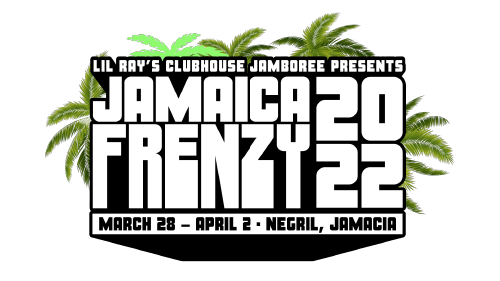 What is Jamaica Frenzy?
AMAICA FRENZY is a 5 night, 6 day all-inclusive, House Music vacation destination experience in Negril, Jamaica from March 28 – April 5, 2022. Parties will take place on the premises of 5-star resort Hedonism II. JAMAICA FRENZY specializes in House Music, with all-inclusive accommodation packages, mixed with the very best talent in the House Music and Electronic Music world for discerning HOUSE Music lovers from around the globe.
What are the dates of Jamaica Frenzy 2022?
Monday October 24 – Saturday October 29, 2022
Where are the Jamaica Frenzy parties taking place?
Jamaica Frenzy will take place at Hedonism II Resort in Negril, Jamaica with daytime beach parties, club nights, pool parties, theme parties and adult games with the Hedonism entertainment staff.
Is it true I need to register in addition to purchasing tickets? Why?
Yes, please complete the form on our registration page after purchasing festival packages so our team can have all the information to book you and your party the best possible room for your stay.
What are the different package options offered?
Full Week, Monday to Saturday Double Occupancy and Single Occupancy. There are no Weekender options, Day Passes, Night Passes, or Event Only passes.
Can I choose my room?
Rooms are assigned on a first-come, first-served basis. There are a limited number of Oceanfront rooms available, which will be given to the first group of confirmed guests. We will do our best to work with Hedonism to accommodate any special requests.
Can I have more than two people in a room?
No. The rooms are based on the availability of all inclusive resorts and do not accommodate more than 2 people per room. Prices are per-person, single or double occupancy.
What is included in the prices for the All Inclusive Packages?
The Full Week All-Inclusive package will include:
All Inclusive accommodations & Gourmet Dining and Premium Cocktails
Admission to all Jamaica Frenzy World Class House Music parties and events
Round trip transportation to all parties. Book at www.jamaicafrenzy.com
Club Mobay Pass *
World Class DJs & Artist Talent
Catamaran Party (on a First-Come basis)
Experience the unique ambiance and atmosphere of luxury rooms designed to heighten your senses and awaken your spirit.
Offering accommodations on both sides of the legendary adults-only Hedonism II Resorts, Negril, Jamaica.
Gourmet Dining 20 hours a day
4 Restaurants, 2 Grills – No Reservations Needed
Premium Liquor & Access to All 5 Bars
Complimentary Wifi
6 Pools & Hot Tub's
Daily Beach Parties, Games, and Beach Activities
Nightly Shows, Night Club, Theme Parties & Entertainment
Access to Romping Shop Playroom **
Fully Equipped Fitness Gym with instructor
Au Natural and Clothing Optional Beach
Live Singalong Piano Bar
Sauna, Steam Room
Tennis, Beach Volleyball, Pickle Ball
Scuba Diving ***
Glass Bottom Boat Rides, Snorkeling, Sailing, Kayaking, Paddle Boarding
*additional cost, based on availability.  **For Couples and Single Women. **Free for PADI certified divers.
Will there be Events Only passes?
Are there safety protocols for COVID-19 ?
Currently yes, Please visit the travel authorization page from the Jamaica Tourist Board for details.
Is this in Jamaica, Queens?
No, this is the Island in the Caribbean!
Do I need a passport?
Yes. You will need a passport to book travel to Jamaica.
What is the Airport to fly into Jamaica Frenzy?
Airport code is MBJ. The airport name is Sangsters International Airport, Montego Bay, Jamaica.
Should I purchase Travel Insurance for my Party Package?
Yes, the reason to get the travel Insurance is If we must postpone again, you can file a claim with the Travel Insurance company for your refund. Also if you have a medical emergency or get sick, and must be quarantined or hospitalized, the travel insurance will cover your expenses for the extra stay in Jamaica, meals, and may even cover if you need an airlift out of Jamaica (if you take the deluxe policy). This airlift can cost $35,000 or more out of pocket if you do not have the travel insurance.
Is airfare included?
No. Attendees must make their own travel arrangements.
Is transportation provided to and from the airport?
For those who have purchased full week passes through Jamaica Frenzy, transportation arrangements will be handled by our transportation partner Sun Holidays.
Do I need to book with with JAMAICA FRENZY to attend parties?
We highly recommend that you purchase your LIFESTYLE VACATION package on the Jamaica Frenzy website or the www.jamaicafrenzy2022.eventbrite.com as this will guarantee you entry to all parties and events that Jamaica Frenzy has on the property of Hedonism.
Can I talk to someone about all this before booking?
Of course! Drop us an email at admin@jamaicafrenzy.com and let us know your number and the best time to reach out. Someone from our team will be in touch.